Cynthia Tassey – Clinical Thermographer/Administrative Staff

Cynthia was born and raised in Crystal City, Texas. She joined the United States Air Force in 1996 and served as a clinical/combat medic for 14+ years. She has experience in family practice,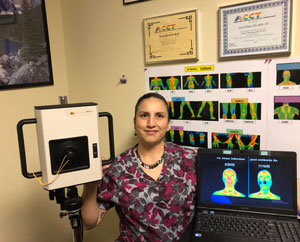 internal medicine, pediatrics, and inpatient/outpatient surgery. Cynthia served as a combat medic in Afghanistan, and was the liaison for Women's Affairs. It was a fulfilling and enriching position for her making a difference for the women she got to know in the Laghman Province of Afghanistan.
In 2010 Cynthia retired from the Air Force and pursued her education at Colorado Technical University to attain her Bachelor's Degree in Healthcare Management. She graduated Suma Cum Laude. Prior to coming to Integrated Health Solutions (IHS), Cynthia took time off of work to raise her son Vance, with her husband Rodney of 20+ years.
Cynthia now provides thermography imaging and administrative support to the IHS team. She is committed to providing the highest quality of care to all IHS patients.